Profile

in the pond
there is barking
Free Account
Created on 2009-12-07 19:15:22 (#462768), last updated 2011-09-15 (313 weeks ago)
9,851 comments received, 66 comments posted
477 Journal Entries, 0 Tags, 0 Memories, 2 Icons

About
| | |
| --- | --- |
| Name: | seal |
| Birthdate: | Sep 24 |
| | |
| | |

Mini Bio
"To be the object of desire is to be defined in the passive case.
To exist in the passive case is to die in the passive case - that is, to be killed.
This is the moral of the fairy tale about the perfect woman."-Angela Carter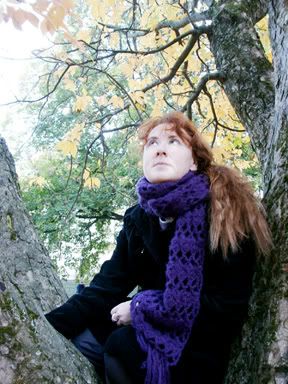 I'm a Swedish redhead bookworm and roleplayer. I used to live in Uppsala, but because of love I moved to Colorado, and here I am, living with an American, and with a new social security number.
oh..and I've had some questions asked about the on-line name sealwhiskers...
I fed seals fish for a whole summer once, and came to like those animals. I like how they interact, fight, fuck, eat and play. Furthermore I like swimming. It's like zen buddhism for me. I can swim for hours, I swear I've had my best novel concepts drawn out while being in the water. By some few close friends and ex:s I am also called Seal because of this. In swedish it sounds more like "Sael" though..
My journal never became friends only, as I thought it would, instead the number of open posts are more than ever, due to my Swede-in exile status, since I want to keep in touch with old friends.
Otherwise my journal is a lot about not being perfect, and vexations over the world being less than perfect.
And finally I want to mention that most of my icons are made by the talented and lovely
northernveil
.

Connect
acting
,
activism
,
alternative lifestyles
,
ambient rock
,
angela carter
,
anime
,
archives
,
beef jerky
,
biking
,
books
,
cats
,
cheapass games
,
comics
,
compassion
,
constructive criticism
,
cooking
,
coping
,
dreams
,
emotions
,
empathy
,
enviromental issues
,
equality
,
erotica
,
fantasy
,
feminism
, foam baths,
forests
,
friends
,
games
,
gay marriages
, gay rights for adoption,
geeks
,
gender issues
, gender perspective, gloom cookies, goth aesthetics, grail-questing,
graphic novels
,
hands
,
haunted houses
,
hiking
,
history
,
horseriding
,
human nature
,
human rights
,
insomnia
,
introspection
,
jungian archetypes
,
kindness
,
kissing
,
left wing politics
,
libraries
,
literature
,
love
,
lust
,
mah jong
, midsummer madness,
moomin
,
movies
,
mushrooms
,
mythology
,
neal stephenson
,
neil gaiman
,
nemi
,
nostalgia
,
old books
,
open mindedness
,
paganism
,
pedagogy
,
poetry
,
pro choice
,
prose
, prose-poetry,
racial equality
,
rats
,
reading
,
reading in the bath
,
roleplaying
,
sandman
,
sarcasm
,
science fiction
,
seafood
,
seals
,
self-knowledge
,
sex
,
shakespeare
,
sleeping outdoors
, stereotyping,
steven brust
,
storytelling
,
strangers in paradise
,
sushi
,
swimming
,
symbolism
,
tanith lee
,
tarot
,
the ocean
,
the tempest
, time bubbles,
tolkien
,
traveling
,
urban shamanism
,
vodka
,
walkabouts
,
west wing
,
white wolf games
,
wild life
,
writing

People
[View Entries]

Communities
[View entries]

Member Of (2):

Subscriptions (4):

Administrator Of (0)

Feeds
[View Entries]

Subscriptions (0)

Linking
To link to this user, copy this code:
On Dreamwidth:
Elsewhere: